Scalable Program Design + Growth Strategy
Work directly with an experienced Business Growth Strategist & Program Design Expert to transform your signature solution into a scalable offer – at every level. Get step-by-step guidance, a program design plan & strategy personalized to your goals.
This program is designed to take your best work and make it a scalable system with strategies to ensure you work less while serving more.
If you're ready for one-on-one guidance, a focused, customized action plan, unprecedented support, and proven framework that delivers – I'm ready for you ✨
The Key to
scale

Your Signature Program
How expert coaches, consultants, leaders & visionaries develop lucrative, scalable programs that deliver massive results without burnout.
Create a program that thrives year-round but doesn't need you 24/7
Sure, you've been thinking about how to scale your programs for a while now, but there's not a lot of time between serving your clients and running the day-to-day operations. The business wheels never stop turning but you can't imagine anyone else delivering your programs and freeing up your time. You're the linchpin to your success and you know it.
Real talk? You're on the fast track to burnout.
You created this business to live on YOUR terms…It's time to make your programs do the work FOR you. You can serve the masses and still deliver top-tier results. I can show you how.
Whether you're creating a certification program, training the trainer, or preparing for full-scale licensing – the help you need is here. Get the tech, sales system, pricing, strategy and program specifics that will set you up for long term growth, and set you free from the grind.
Creating an impactful, scalable program is
easier

than you think.
Turn your intellectual property into recurring revenue
A proven framework to get your program out of your head, built and ready to sell, with the guidance you need to get it done, step-by-step. Solutions That Scale™ are NOT one-size-fits-all. Together, we'll determine which path is ideal for your vision & goals.
A proven framework to

map your expertise into a program that delivers the results you're known for.
Solutions for YOUR Business
No more assembling random advice from random people. Get solutions specific to your business & vision. Tech platforms, marketing plans, content recording – your path from here to next level success is clearly marked.
Focus on doing what you do best! No more spinning wheels between sessions. With a strategy baddie in your corner (that's me!), you've got any time guidance, preferred service providers & proven tools – whenever you need it.
Ready for the Big Leagues
Licensing, certifications, paid ads, affiliates… a scalable solution is designed to sell & deliver impact at scale, now & into the future. Your solution includes a longterm plan for going BIG, deliving ROI for YEARS.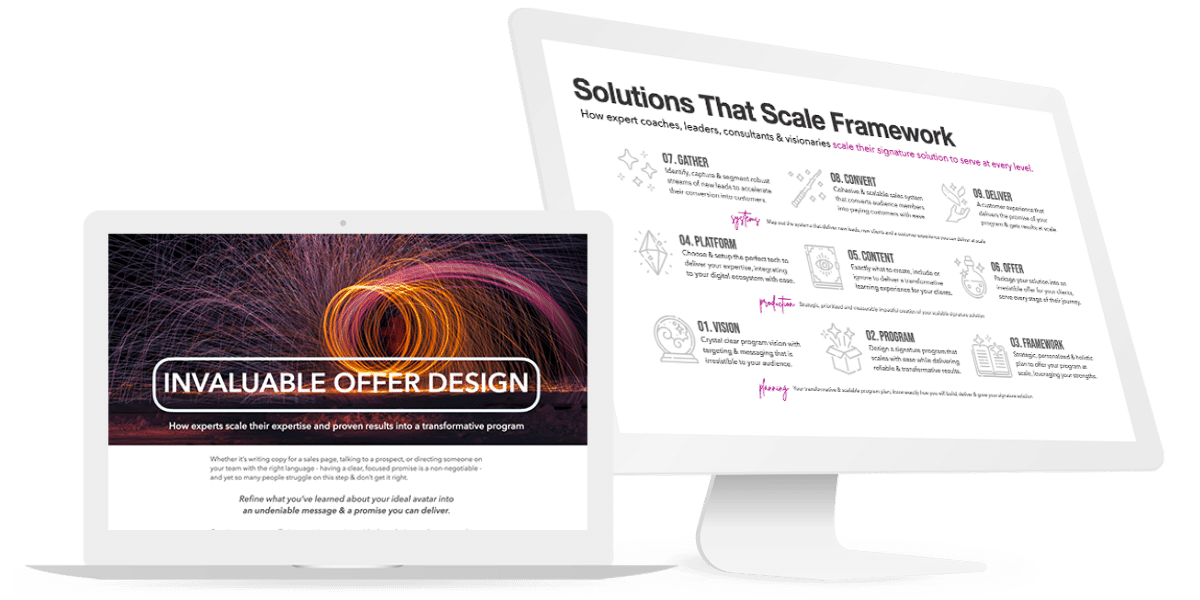 Scalable + Systemized + Impactful
How experts & experienced entrepreneurs like you scale their expertise into scalable programs that deliver high impact results at every level.

1. Core Strategy Sessions
Together we work through the core strategies within your signature solution; the big vision, your customer transformation journey, your customer experience plan (from platform to policies), to the ideal lead growth + conversion sales funnel for your offer.
2. Marketing & Growth Systems
Whether you're leveraging relationship marketing or paid ads, your program growth won't be left up to chance. Marketing system maps outline exactly what communications, platforms, funnels and automations are needed to build & fuel growth.
3. Personalized Feedback & Review
You don't have to guess if it's right, or hope for the best. You've got an eagle-eyed strategist, marketing baddie, tech queen & sales funnel nerd at the ready.
4. Prioritized & Delegate-able Action Plans
No more getting lost in the sauce! With on-going accountability and checklists, templates & swipe files you can hand over to your team – you're set up to make massive progress without working like mad.
5. Scalable Program Design
The perfect offer for your customers serves them at every level, and allows you to work less & make more. We'll map your Signature Solution, and its stage appropriate permutations so your offer is compelling now, and into the future.
6. Unprecedented Support
No such thing as wasting time spinning your wheels when we're bottling lightning. Anytime you get blocked or need help, your personal strategist is just a voice memo away. Referrals, opportunities, relentless cheerleading, shortcuts & to-the-point straight talk are all included. We win when you win.
7. Leading Edge Insights & Expertise
You don't have to become an expert on the latest in learning design, human transformation or business strategy, cause that's how we're spending every single day. Skip the googling and get strategic solutions that get results.
3-6 months strategic support
One-on-one strategy sessions, 2x monthly
Signature Solution Plan
Marketing + sales strategy
On-demand voice message + email support
Production timelines
Action + accountability sessions
Delegatable checklists + team access
Templates + swipe files + referrals
Custom strategy for scaling (looking ahead!)
The three stages to build Solutions That Scale™
Assessment & Planning
We start by taking inventory of your business IP and your Next Level vision. Next, we create a holistic & strategic plan for a Signature Solution that will get you Next Level results.
Program Design & Production
This is how we scale your expertise into a proven, transformative learning experience that gets results, at any level. Get a handle on the program plan without all the eternal research!
Sales Funnel & Customer Experience
A holistic system designed to deliver on the promise of your solution; whether it's just you (for now), or you're getting ready to certify or license a signature solution to other organizations.
Solutions That Scale™ is ideal for experienced coaches, consultants and service providers who have proven results with their clients and have a deep understanding of their target customer's journey.
lightning

in Action

"It was a gift from heaven to meet Starlight! When I connected with her, she got me & she saw what I had in mind. This is such a rare quality! Not only did she see my vision but she added to it – she's so knowledgable in so many areas – it ended up being even more beautiful than I had dreamed of!

She had very structured ways of working through the project and planning which I absolutely loved! It kept me from getting overwhelmed. The launch of my summit was amazing because I was prepared, and I was prepared because she walked me through the process. Seriously, she is the best."

– Linda Leclerc, Author, Speaker, Trainer & Coach
Create a business that
thrives

all the time.
You created this business to live life on your terms. Make it do the work for you.
You can keep trying to grow in fits and starts, or you can invest in your future success with a Signature Solution that scales.
If you've been in business for a while serving your clients mostly one-on-one or in group capacities, it's time to turn your intellectual property into recurring revenue. Create a high impact program that gets results while you're on vacation & equip your business to thrive without constant attention.
Solutions That Scale™ is how you can impact the masses (with ease!) & experience fulfillment in your work without the threat of burnout.
I'm here to guide you in the process of creating a scalable, high impact program that will set you free from the grind.
With my help, you've got 15+ years of growth strategy, marketing, tech-spertise and program design in your corner to help you navigate the world of taking your business to the next level. (You also get the massive relief that comes with not having to figure it all out for yourself!)
Whether your goals are to create a certification program, license your intellectual property, or just get the confidence of knowing your business can thrive without you at the center of it, you'll find it here.
Let's see what's possible when we work together…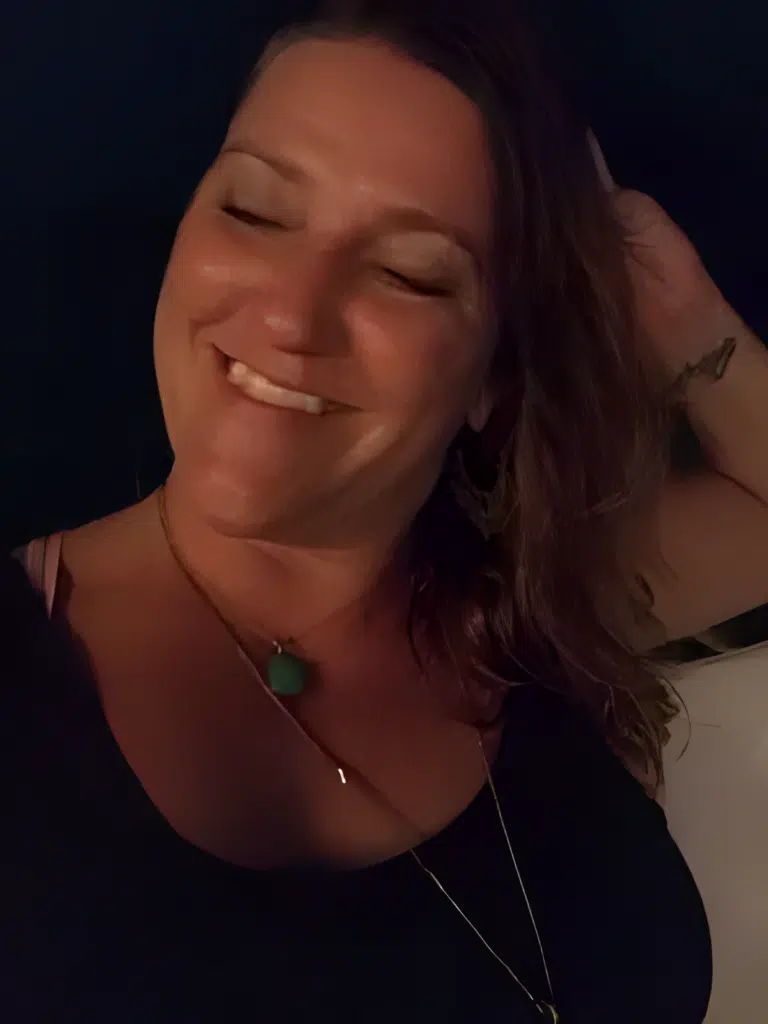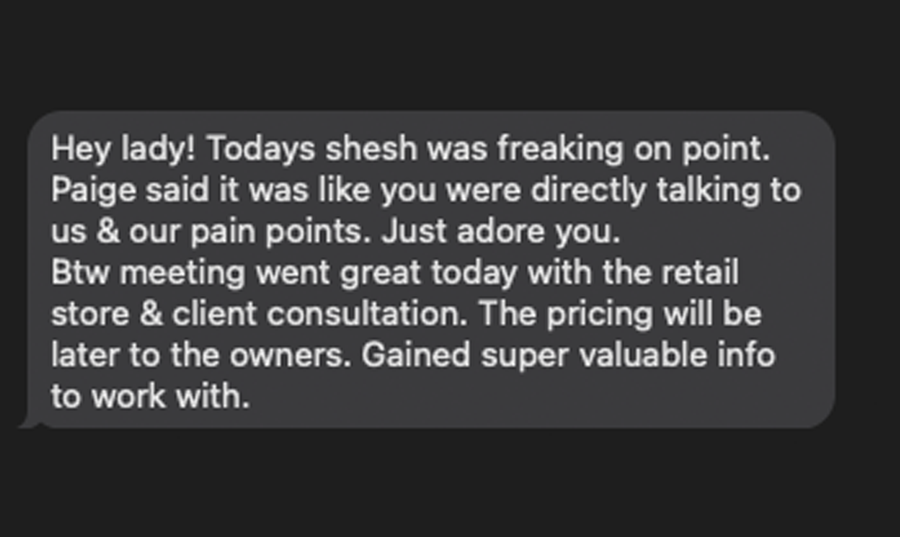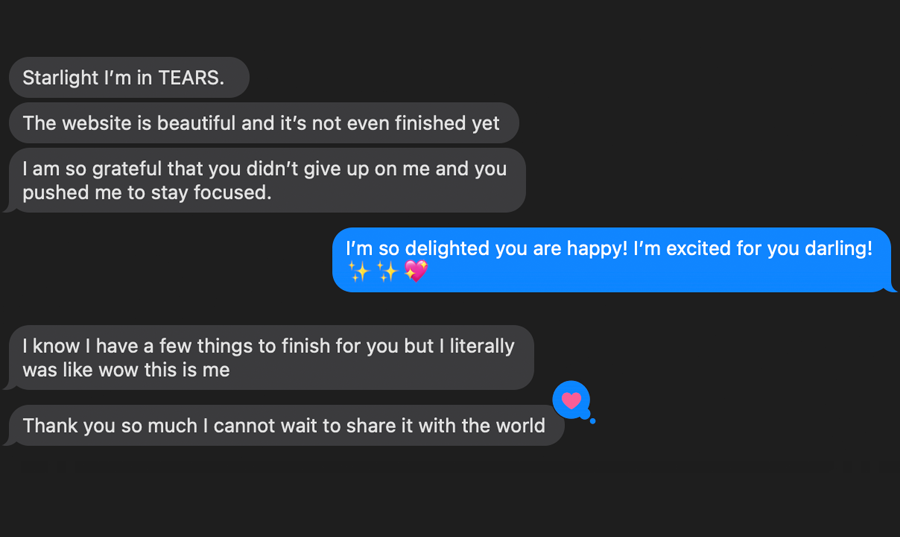 frequently

Asked Questions
How do I choose the right program for this?
Solutions That Scale™ includes assessing your business, goals & existing intellectual property with a holistic lens to make sure that the program you create next is the right one for your business, and the best one for your customers.
Together we can determine which sort of program will get you the results you are dreaming about.
What tech platform should I use to launch my program?
Part of assessing your program design means choosing the right platform for your needs. While this is often a pressing question, it's best answered later once you have more clarity about the core goals of your program.
While I've helped clients create & launch programs on just about every platform out there (and I definitely have some favorites), the best platform for YOU is dependent on a sweet combo of your vision, goals & customer needs.
I can't decide! Should I create a membership, a community or course?
I can tell you've been doing your research!
Creating the ideal program for your business to generate recurring revenue, while continuing to deliver transformative results and not overwhelm you with more work is a strategic decision that is best answered by considering your business goals in combination with your intellectual property, and the experience of your customers who want top shelf results for themselves.
This is something we can figure out together pretty quickly – wanna book a chat to discuss it?
I don't have a signature process yet - does that matter?
If you've been serving clients for a while, you probably have a signature offer, you just don't know it yet.
Together, we'll take inventory of your client experiences, what you've created to serve them, and your expertise in helping them get results to map your very own signature process & framework.
This framework will be the guide we use to scale your business with a Signature Solution that can reach & serve your clients at any stage in their journey! (It's almost like magic, but it's Bottled Lightning.)
How do I know if this program is right for me?
If you're already generating over 100k in business annually and you've served multiple clients with a similar offer, you've two of the essential ingredients for a scalable program.

If you're new to business and still figuring out how to get clients, or figuring out your offer – a Signature Solution isn't the next best step for your business (but help with your strategy might be just the ticket!)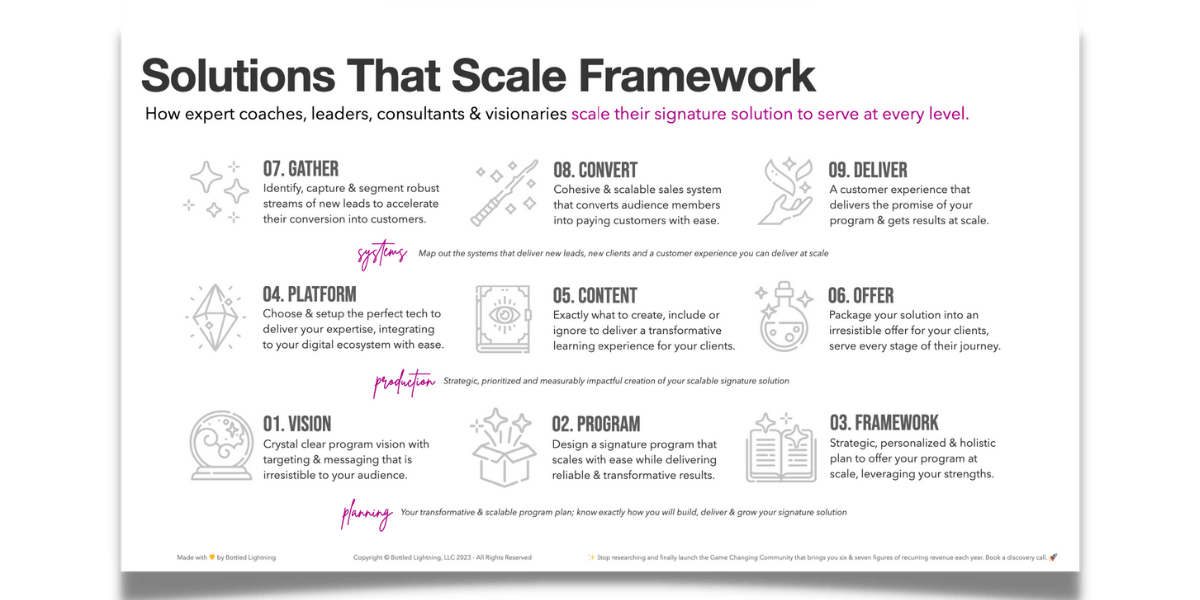 Solutions That Scale is the
blueprint

to your growth
High impact programs that reach the masses, free from burnout.
It guides how you create one-on-one offers, courses, licensable offers, certificate programs, teach the teacher training, mini-products, what parts of your program are add-ons, upsells, downsells… all of it.
A solution designed to scale is built to deliver results at any level, regardless of who is delivering it, and to generate revenue at every stage in your business.

Solutions That Scale™ is how your business captures lightning in a bottle.