Membership Growth Strategy + Acceleration Program
Work directly with an experienced Community & Business Growth Strategist to ignite your community growth. Get step-by-step guidance, a marketing plan & growth systems personalized to your vision.
This program is designed to accelerate your membership with sustainable & strategic systems for consistent growth and a flourishing community.
If you're ready for one-on-one guidance, a focused, customized action plan, unprecedented support, and proven methods that gets game changing results – I'm ready for you ✨
Cultivate
connection

& scale your impact
How expert coaches, leaders, consultants & visionaries like you build lucrative membership communities that change the game.
Delivering top-tier results and having a massive impact while working less IS possible.
You've helped deliver stellar results for loads of one-on-one clients, but it's time to take a step back from the day-to-day grind and find a better way to reach more people while doing less work.
You've researched the community and membership models but there are SO many factors to take into consideration! (We both know assembling random information from random sources hasn't given you the clarity or path that you need.)
Listen beebs, you're not going to achieve your desired results with someone else's plan.
You want the right plan for your vision that doesn't sacrifice your free time, or the results your reputation is built upon.
Your plan requires a strategy that makes sense for YOUR vision, YOUR goals, and plays to YOUR strengths to ensure sustainability (aka no more overwhelm & wasting time!).
What does it
really

take to succeed?
Guidance & Proven Strategies to Accelerate Your Community
Creating a community on YOUR terms is the plan. Get the strategic guidance and big picture expertise to help you bring the assets and strengths of your business into orbit.
Grow a lucrative community that is connected, engaged and self-propelled. Establish systems to sustain your growth and scale your impact. Install regenerative growth strategies that continue to propel your community & business to new heights.
Systems and strategy to nurture the growth of a connected, engaged & lucrative community
Customized Growth Strategy
Getting members, keeping & serving your members, while growing your membership – we'll create a cohesive community growth & marketing plan that plays to your strengths with proven strategies to help you reach your goals.
What to include, visiting experts, delivering content & maintaining engagement; there's a plan for that. Plan & build a lucrative, high impact membership. From promise to price, every detail is designed to get results.
Creating a Game Changing Community is no small feat, but it gets easier as it grows! Every system is created for repeatable, renewable growth – from lead generation & sales funnels to member on-boarding, engagement & re-enrollment.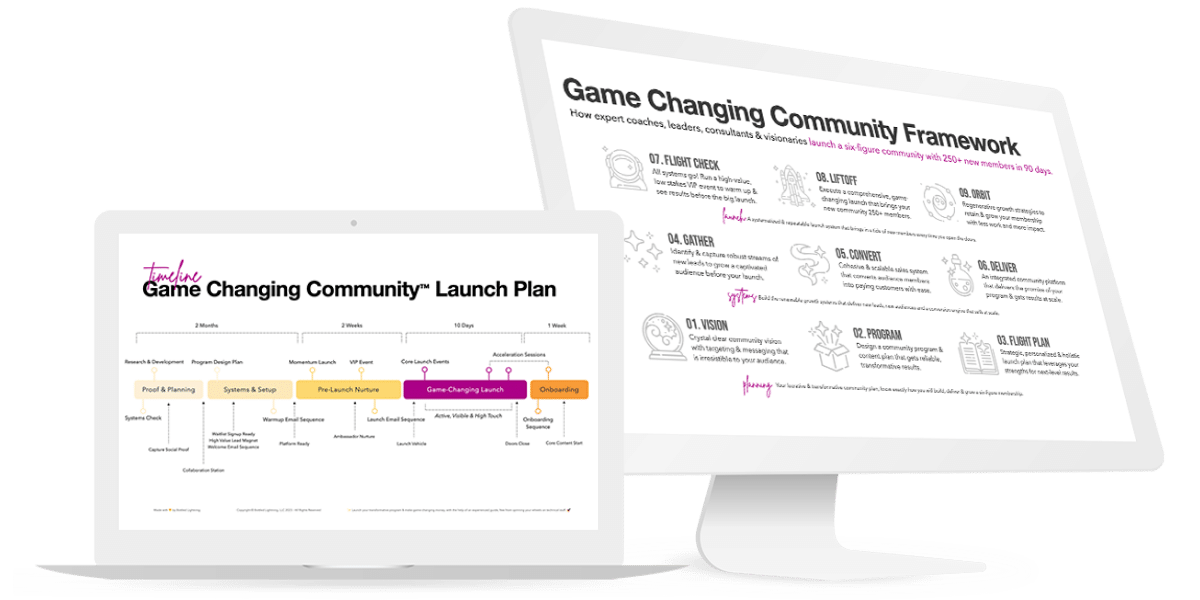 Growth Plan + Reliable Systems + Transformative Impact
1. Core Strategy Sessions
Together we work through the core strategies within your community; the big vision, your member's transformation journey, your community experience plan (from platform to policies), to the ideal lead growth + conversion sales funnel for your membership.
2. Marketing & Growth Systems
Whether you're leveraging relationship marketing or paid ads, your community growth won't be left up to chance. Marketing system maps outline exactly what communications, platforms, funnels and automations are needed to build & fuel your membership machine.
3. Personalized Feedback & Review
You don't have to guess if it's right, or hope for the best. You've got an eagle-eyed strategist, marketing baddie, tech queen & sales funnel nerd at the ready.
4. Prioritized & Delegate-able Action Plans
No more getting lost in the sauce! With on-going accountability and checklists, templates & swipe files you can hand over to your team – you're set up to make massive progress without working like mad.
5. Momentum Marketing Experience
From a founding member launch, to throwing the doors open to 250+ new members, your program includes support through a launch + growth experience that brings in a big boost of fresh revenue and shining faces.
6. Unprecedented Support
No such thing as wasting time spinning your wheels when we're bottling lightning. Anytime you get blocked or need help, your personal strategist is just a voice memo away. Referrals, opportunities, relentless cheerleading, shortcuts & to-the-point straight talk are all included. We win when you win.
7. Leading Edge Insights & Expertise
You don't have to become an expert on the latest in community growth, human transformation or business strategy, cause that's how we're spending every single day. Skip the googling and get strategic solutions that get results.
4 months strategic support
One-on-one strategy sessions
Comprehensive Community Plan
Community Content + Engagement Plans
Member Onboarding + Re-enrollment Plan
Lead Generating + Conversion Engine Design
Momentum Marketing Experience
On-demand voice message + email support
Production timelines & checklists

Proven templates & swipe files

Support team checklists & referrals

15+ years customer experience design

15+ years marketing expertise
7+ years hands-on community building experience
Everything you need to build transformative community
Community Design Plan
All those ideas, all those questions & unknowns? This stage helps get them out of your head, solved, and into a holistic, executable plan proven to get results. From messaging, pricing, platform and marketing to onboarding + engagement – it's all here.
Recurring Growth Systems
Whether fueling your community with cohort launches, or evergreen doors open – you need trusted systems in place to keep your community machine rolling (without your day to day attention). We're building & refining the machines driving your success.
Massive Momentum
From an intimate VIP Founders Launch, getting your first 250+ members during a full on launch, to scaling your community (organic or paid); it's all about mashing the pedal to the metal. With a great plan & proven systems, it's GROW time.
Game changing results (like a six & seven figure community with 250+ new members during a Momentum Experience) require a few essential ingredients. Game Changing Community™ is ideal for established online businesses with experience in serving clients with essentials like a well targeted email list and significant audience.
lightning

in Action

"Starlight has been a game changer for my company! Her ability to identify and solve problems in creatives ways is truly impressive. She has a keen eye for design, business development and user experience. Through creating a beautifully designed and professionally functional digital environment, our company and community are now thriving."

– Heather Manus, Community Creator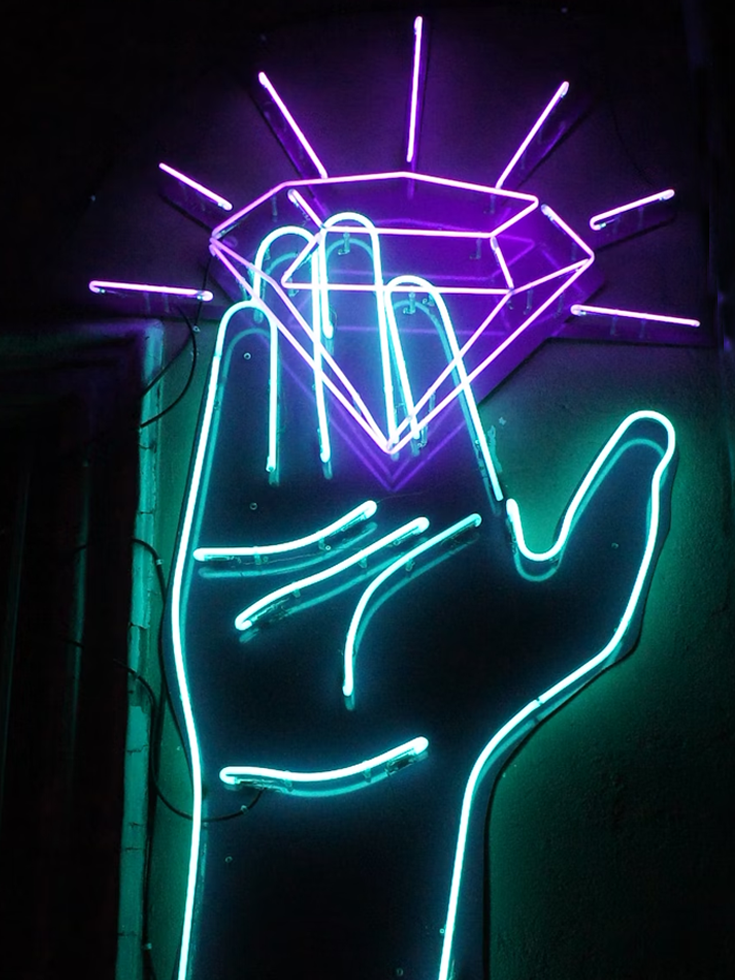 Forge community that
grows

for good
Everything you know about your customers helps them grow… let's go BIG with it.
A fulfilling, engaged and sustainable community can help you take a big step back from the day to day grind – you just need the right plan for your vision.

You can keep researching and combining random advice you find around the web, or you can invest in creating a source of reliable, recurring revenue for years to come. If you've been in business for a while serving your clients mostly one-on-one or in group capacities, it's time to turn your intellectual property into recurring revenue. Launch a Game Changing Community™ to see your legacy become reality.
Game Changing Community™ is how you grow a highly engaged and lucrative community to level up your business and leave a legacy of transformation.
I'm here to guide you in the process of creating a self-propelled, highly connected community where you impact the masses without working yourself to the bone.
With my help, you've got 7+ years of hands-on experience in community growth strategy, 15+ years marketing, launch, tech-spertise and transformative program design in your corner to help you navigate the world of cultivating online communities. (You also get the massive relief that comes with not having to figure it all out for yourself!)
Whether your goals are to launch your first community cohort, scale beyond 500+ members, or build seven figures in recurring revenue, you'll find it here.
Let's see what's possible when we work together…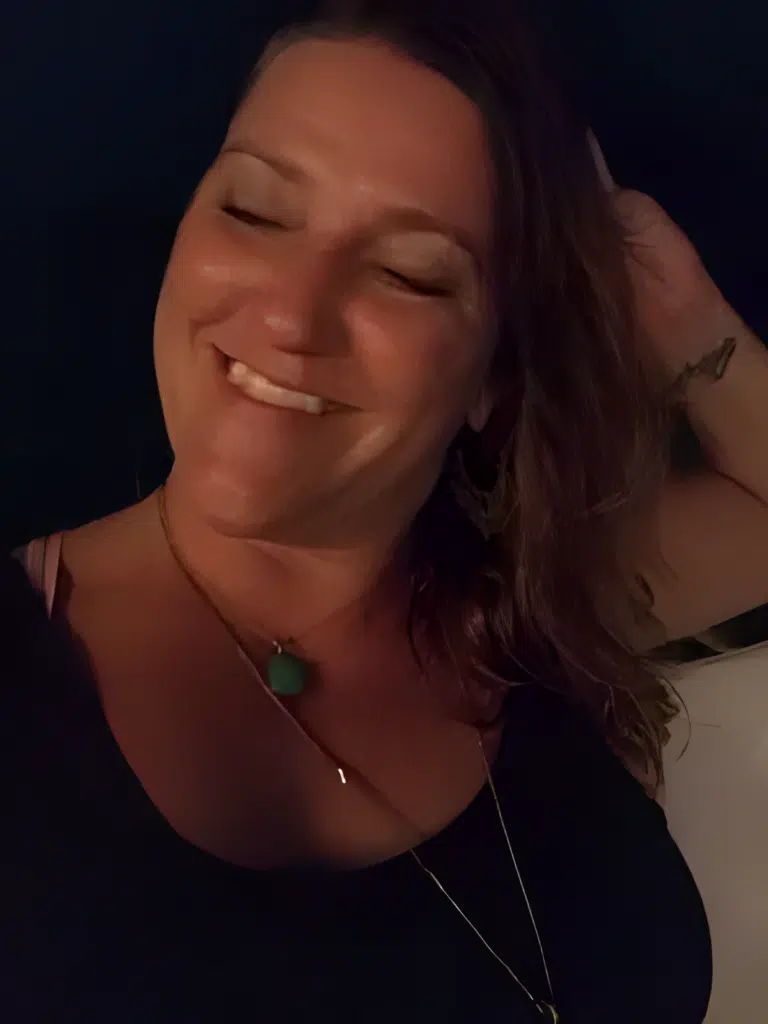 Get this Crazy-Simple, One Page Community Design
formula
Transform an Idea into a sustainable vision
Thriving community is more than content, platform & an engagement plan. Reveal your sustainable community plan.
Answer these questions to build a lucrative & sustainable plan for your community (whether you're just getting started, or you've started already and need to regroup). Regroup, get it? 😆
frequently

Asked Questions
How do I know if a community is right for my business?
There's several factors to take into account:
your personal lifestyle (how much time can you dedicate to the efforts a new community requires?)

your existing offer stack (does it help or hinder your impact?)

your support team (if not you, who?)

the size & health of your email list (where the majority of your sales will come from)

the reach & activity of your audience (how your community grows beyond the 1st cohort)

collaborators & affiliate relationships (how you leverage your connections for fast momentum)

paid advertising (when you're ready to scale on autopilot).
These are all things we'll discuss during a quick alignment chat.
What should I include/not include in my community content?
This is a common misstep I see community builders take.
They want to ensure they provide lots of value and end up packing everything and the kitchen sink into a membership that is priced too low for their ideal customers to take seriously and too much content to keep up with when first starting out.
This results in creator burnout, high churn and low impact.
Focus on the promise of your community – anything that doesn't DIRECTLY, and INDISPENSABLY deliver on that promise should wait until later.
What's the best platform for my community?
Well, it depends. I definitely have some favorites, but they vary depending on the big picture outcomes you have for your community, your business, and your existing technical infrastructure. If you wanna learn more about my go-to community platform, check out Mighty Networks.
How should I include my existing programs in my community?
We'll work through this together during your Community Planning strategy sessions.
In the meantime, you can get started with a holistic view of your community plan by using this Crazy Simple One Page Community Planner. It helps community creators take a comprehensive look at the essentials of their community plan to ensure they're considering all the important details.
My existing community isn't doing great, can you help?
I've got the perfect thing. You'll love the Sustainable Community + Growth Systems Triage. It's a holistic assessment of your community from messaging, through your marketing sales funnel, onboarding, engagement & impact.
We'll identify what is working and what needs improvement inside your community in order for you to get better results, and you'll get a six week, step-by-step Action Plan to help you take action (with delegatable checklists for your team).
Does this work for free communities?
Sorry beebs, free communities have a totally different strategy and reason for existing (aka generating leads vs. delivering on a promise). While some of these insights may apply, the strategy for getting ROI from a free community is radically different.
If your business already has a well-targeted and engaged free group that you want to leverage into a monetized community plan, we'll include that in your paid community conversion & growth strategy.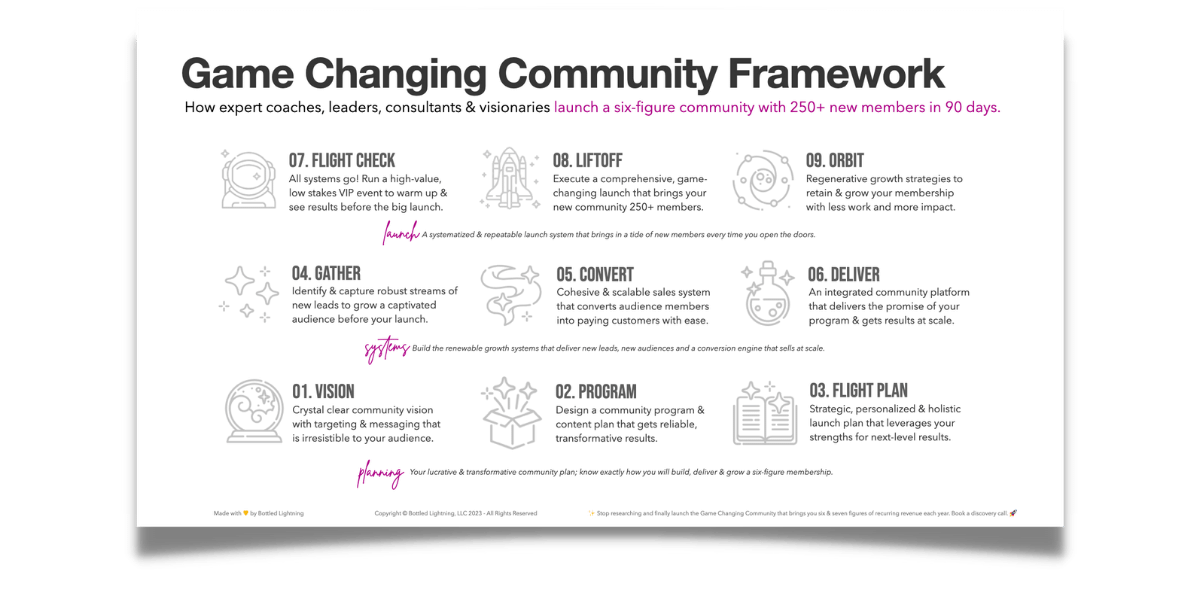 Game Changing Community is a
framework

for sustainable growth
Change the Game in your Community + Your Business
In this program, you design and implement systems that continue to generate long term growth for your business, bringing you an exponential ROI, cultivating connection & transformation at scale.
A community designed to change the game changes the game for your community members, and for your business. It's built to deliver reliable results in big ways, with less and less effort over time while your recurring revenue continues to grow.
Game Changing Community™ is how your business shares lightning in a bottle.